Buyer's guide to vintage Fender amps
Available for only 10$ US.
And you will become a member of fenderguru.com
Paypal instructions
Amount: 10$ (US dollars)
Paypal account: jens(a)karane.com (replace the (a) with @)
Paypal payment message: "fenderguru.com"
After short time (<a few days) we will simply email the pdf guide to your paypal email address
Unlike the rest of the free content on this site, the buyer's guide costs 10$. In later revisions we plan to distribute the guide on modern platforms, like app stores for different tablet devices. Click the picture to see the Table of Contents. We've extracted the introduction for you below.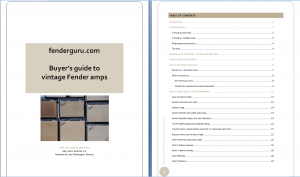 Introduction
If you came here looking for good tone you've come to the right place. The "Buyer's guide to vintage Fender amps" from fenderguru.com will help you navigate in an over-hyped vintage gear market and explains the risks and common issues with buying vintage Fender amps. The purpose of this guide is to help you recognize a good Fender amp by reading about it and looking at pictures. It will allow you to make safer purchases on a global market without having to physically play an amp before acquiring one.
There are many facts to consider when determining the condition and originality of a vintage amp. While the collectors are primarily interested in originality, the musicians see the amp as an instrument. This will affect the priorities and decicion making in a purchase. If your plan is to play and gig with your amp you should focus on tone and robustness. That can be painfully hard to combine with originality, but don't worry – We'll share our strategy how to compromise tone and originality. To pay our respect to Leo Fender we must all try to conserve the vintage Fender amps on this planet. We should all strive to keep these amps as original as possible.
At the end of this guide you'll find a step-by-step procedure how to inspect and safely fire up a vintage Fender amp. This will come in handy if you have bought an amp and had it packaged and shipped. You might not know if an amp worked before it was packaged or if the tubes or reverb tank was damaged during transportation. After following the step-by-step procedure a couple of times, you will master the basic principles with vintage fender tube amps.
The "Buyer's guide to vintage Fender amps" is targeted for beginners with some or little experience with tube amps. It focuses on the early decision phases when looking at amps, for example on internet auctions. It is not a comprehensive catalogue containing all eras of Fender amps that will guide you to a specific model.