Many years ago we did a terrible mistake selling a beautiful 1966 blackface Twin Reverb. It was in perfect technical and cosmetical condition. 100% original except new electrolytic caps. We have a picture of it below.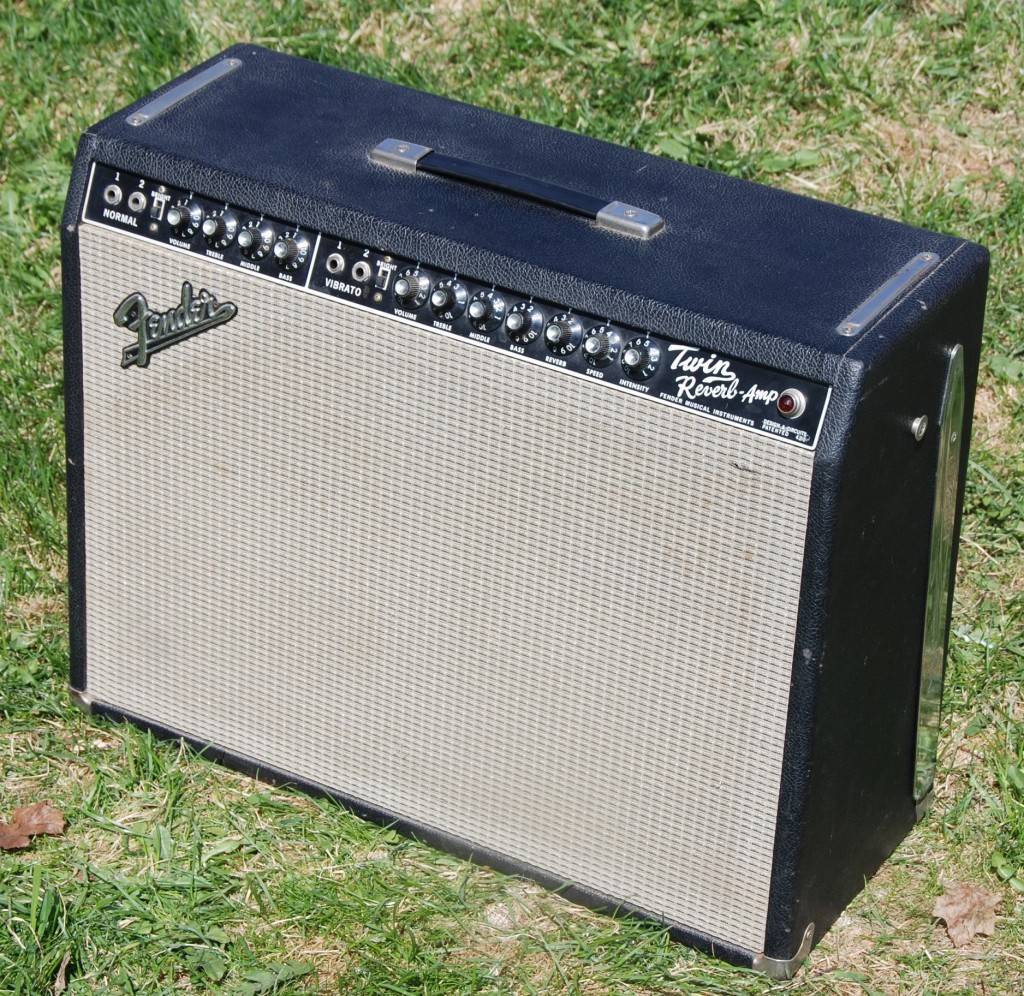 The original RCA tubes worked perfectly and the sought-after Jensen C12n speakers with original paper cone defined what Fender clean tone is. It was indeed a profitable sale, but as the years go by money tends to be forgotten. Memories are not, and in times of deep anger and depression we have trolled bays around the world for another Twin Reverb. It's not that we need a big amp for playing a filled 300-seat church each Sunday in a gospel band without PA, we simply just want the flagship of Blackface Fender amps in our collection so that our Fender friends and customers can learn whar Fender clean sound is.
A few weeks ago there came an opportunity for us to score a Blackface Twin Reverb quite cheap. It was not in any comparable condition as the previous amp we had owned. It had a quite different appeal to us that we willingly lightened our wallet by 1500$. To quote Billy Gibbons, "I'm just a fool for your stockings, I believe". What first caught our interest was the very attractive dark brown-colored grill cloth, indicating a long and interesting life in smokey bars with beer floating around on stage. The AB763 circuit was intact and had been serviced nicely with new Spraque electrolytic caps and new plate resistors. All 606 Schumacher transformers were original from either 1963 or 1964. Chassis serial number indicated 1964, tube chart also. The amp had a pair of Oxford 12T6 speakers who could have been the originals for this amp, but they were not. Manufacturer code 465538 indicated Oxford (465) year 65 (5) and week 38 (38). They had been reconed by Orange County Speaker many years ago. From an earlier 69 drip edge Pro Reverb we knew how good Oxford 12T6 speakers can sound. One more thing was not original, the tolex. Even if tolex replacement is nicely and professionally done, it will reduce the price of a collector amp with hundreds or thousands of dollars. 1500$ was probably a correct price for this amp, we thought. After playing it, we did not regret . But first, when we unpacked the amp from its box and removed card boards and bubble plastic, we noticed broken glass in the back of the amp, inside the speakers and below the reverb tank, everywhere! Two of the four power tubes were broken inside their small, separate box. We had to vaccum the entire back room of the amp and inside the chassis. After that we had to tighten the usual screws and nuts on baffle board, speakers, transformers and chassis straps. The weight of the amp chassis and speaker baffle of a Twin Reverb presents a significant risk when transporting these amps. The old wood simply breaks. Sometimes we must repair the screw holes with glue and wooden toothpicks.
Here it is….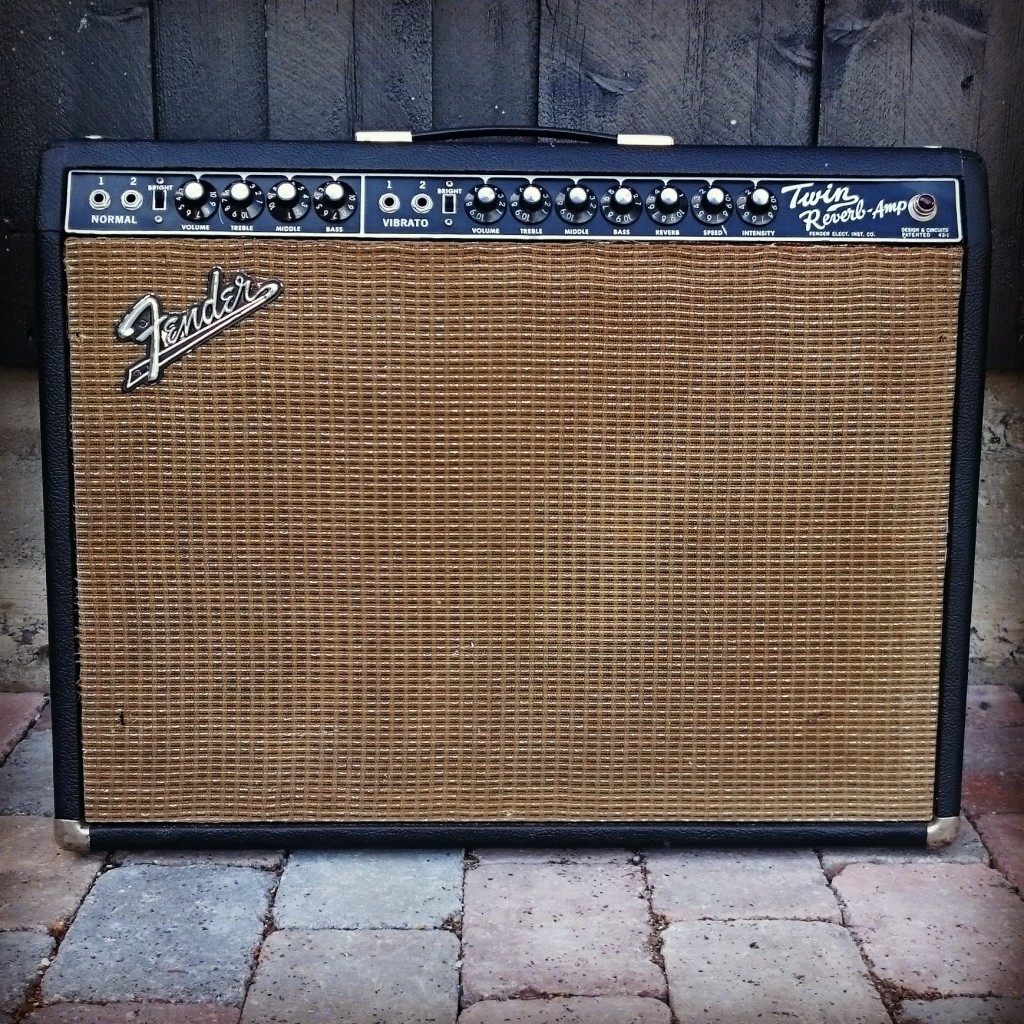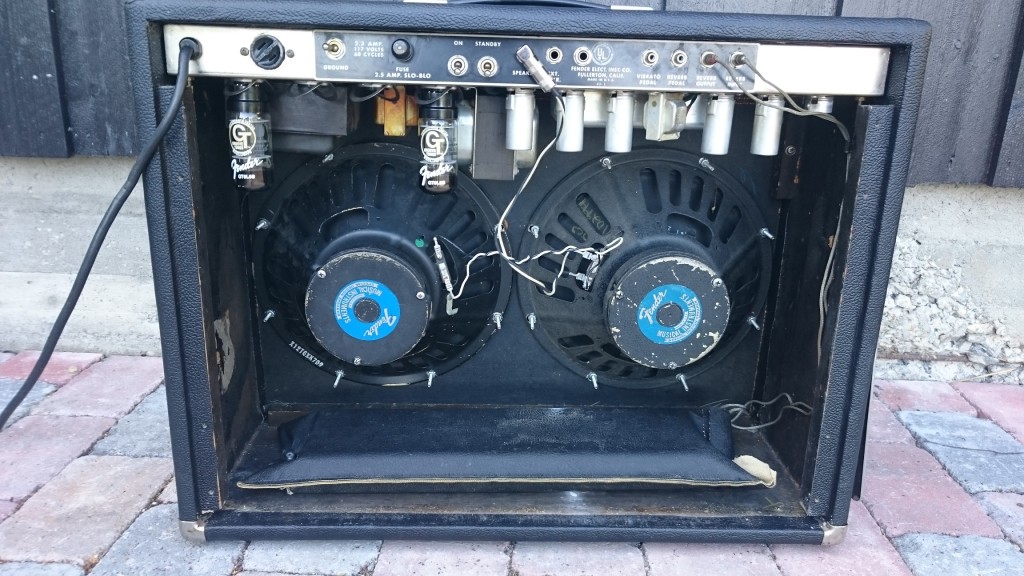 Before powering up we set the remaining pair of Groove Tube 6L6GC in the two outer positions. We now had 40-45w in stead of 85w. Together with a diode rectifier and large power and output transformers, there is more than enough power. All you Bassman and Bandmaster owners know that. Next, we pulled the V1 12ax7 tube from the Normal channel, which we don't need anyway, and inserted it into the V6 phase inverter position in stead of the default 12at7. Using a 12ax7 as phase inverter tube creates more preamp distortion in vintage Fender amps. These two tube tricks create magic with a Twin Reverb. The sound is looser, more cranked and mellower. The tubes in this amp seemed to be a random selection of various brands, probably just thrown in for no particular reason. Our strategy with tubes is "never change a winning team". If they work, sound nice and are not noisy, we keep'em. Other tube strategies are expensive and time-consuming, in our opinion. With serious gig amps, we always test the amps thoroughly before lending them out. But with tubes, you'll never know. This is the game of tube amps, old or new. You need to be prepared for changing the tubes at any time.
Back to the Twin Reverb….
We hit a chord on our shell pink strat, the guitar we always use when testing amps just because we know it so well. The sweet spot where chord playing starts breaking up was around volume 5, bass 3, mid 6 and treble 4.5, bright switch off. The tone of the first stroke reduced our pulse and made us smile and laugh. We'd describe it as big, fat and full. The big speaker cabinet provides a deep bass tone everywhere around the amp. The strat came out very natural and unfiltered, and the neck pickup position tone had just a little amount of hair on it. The amp was not loud at all! The Oxford 12T6 speakers produced a perfectly balanced vintage tone, meaning no harsh sparkle and no bloomy bass notes, perhaps a little less loud than the Jensen C12n, but still very similar. No unpleasant things came out of this amps. Nothing that we could point our finger at in any pickup position. Everything was just as it is supposed to be, balanced and clear. Orange County Speaker's recone work did not dissapoint us this time either. While we played for ten minutes our thoughts went to all of those who deserve to feel this great power and thrilling pleasure of Leo Fender's flagship. What also pleased us was that the amp needed no maintenance other than tightening screws and nuts. We are rarely this lucky with buying amps from abroad, usuall some work is required. We probably won't install a quad of 6L6C in this amp unless someone starts playing funky clean sound rythm in a gospel band. With expensive new or NOS tubes we would have gotten a few more watts, more bass and more sparkly treble, but that's exactly what we don't want. We want a vintage, non-perfect, flat yet balanced character. We have more than enough power and trouble (treble + bass) in this 85 w beast. The question is – how can you tame it? The significant difference between new reissue amps and old vintage amps is worn speakers and tubes. It means everything.
Is there a difference between silverface and blackface Twin Reverb? Yes, there is. Not the first 68-69 transition models, but in the 70s the master volume was introduced and minor changes to power amp circuitry to make it cleaner and louder. Then came a 100w version and the 135w ultralinear version. The blackface Twin Reverb has less power, more breakup and a rawer tone. We also prefer the speakers in the blackface amps, Jensen C12n, Oxford 12T6 and sometimes JBL (amp weight 50kg!). In the silverface amps there was Rola, Eminence, Utah, to mention some. They sound different and "newer".
Take care. May the tone be with you.